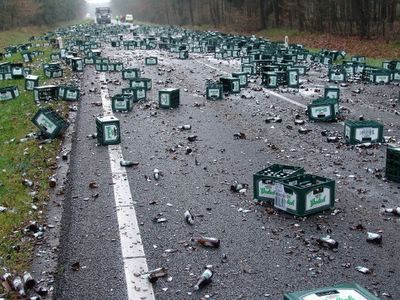 Catastrophic Disaster!
Tinker's pic

Today was the worse day of this week thus far. Sad because you would think that Monday or Tuesday would be the worse days of the week. It started as soon as I put my Oroton purse under my desk. I changed out my Dooney to the Oroton. Maybe I jinxed myself. Anyway, the red light on the phone was lit as soon as I logged on the phone. Why are clients calling at 10:30 pm and 11: 45 pm at night? Noone is in the office! What is the point of that? And the most annoying client of all from yesterday and monday ( 8 calls from her in 2 days) called at 9:00am. I spoke to her and handled her problem with an expense. I told her I would need to verify the expense and once I did I would pay it.
Okay, the manager is sending over all sorts of emails to work this list and that list and they all have a day and time deadline! Some were reminders of lists due today. I worked those. Then I got an email that I needed to spend about 3 hours in a side conference room doing some completion on a continuing ed course. Okay, but what about the phone ringing crazily at my desk? "They can wait, those courses need to be completed." Off I go.
I get back to my desk and most annoying client from monday and tuesday had called 3 more times to make sure I had handled her expense. Can we say together: WHERE IS THE GUN!? AND IT IS NOT FOR ME! I called her back and told her again what was happening and to please stop calling repeatedly. Nothing had changed in 3 hours since we last spoke.
Then the call came in from someone who wanted an expense paid today as they were strapped for money. Please people, do not make your financial chaos my problem. It is not my problem your electricity is about to be turned off. I spent 40 minutes, yes 40, trying to explain that I could not
FAX
a check to her today. Get it...you cannot fax a check to anyone and it be valid. They wanted me to fax a check to their local print shop in another city so that they could take that faxed check to the bank. I was totally through with them! I guess they are in darkness tonight! I never did fax them the check! And I do not believe they ever understood that a faxed check is worthless.
Finishing shoes must have woke up on the dumb side of the bed today. So many questions and assistance she needed. God help me! I have my own work to do, let alone yours and mine!
One of the other managers had a big old bruhaha of a meeting with his staff. It ended with him cursing his unit out and the big boss coming in and telling his staff that anyone suffering from stress as the result of the 3 hours bruhaha, they could leave for the day. Needless to say, ugliness is going on there! The whole office has an eerie feeling all over it...like things are happening behind the scenes..bad things that we are not fully aware of. Rumors are flying and gossip is plentiful.
Finally after several more odd calls at my desk, I decided that it was going to be beer o'clock when I got home. I checked the fridge and was out of Killians. What to do, what to do?!
I found another solution to the end of a day from hell! Since it was not going to be beer o'clock or weed thirty at my house, it would be "quarter past the jack daniels and ginger!" It has been "quarter past the jack daniels and ginger" for the past 2 hours and all is well. All is well!